**Registrations are closed. Watch for reviews below**
Neutralise household rubbish odours the easy way!


With summer on the way, it's almost time to break out the BBQ and start entertaining your friends and family. With kids running wild and a nice relaxing environment, the last thing you need is a smelly rubbish bin dampening the mood. Luckily, Glad and Ambi-Pur have teamed up to bring you a rubbish bag that neutralises odour before they smell out your room.


These bags aren't just for the kitchen and your food scraps though. With a light vanilla scent and odour-neutralising technology from Ambi Pur, they can be used for nappies in your little one's room, in the bathroom, the garage, at work or anywhere else you may have smelly rubbish.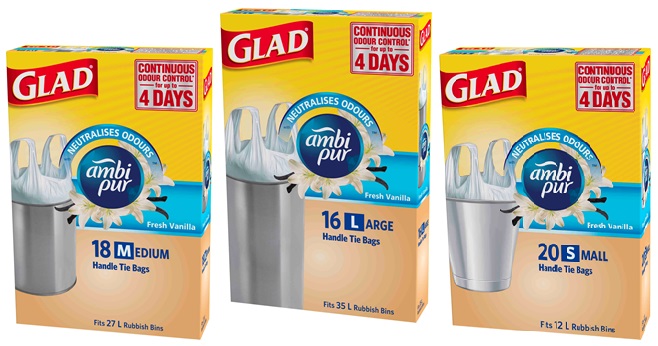 The best part? You can use these bags for up to 4 days and ensure you are receiving continuous odour protection. Equipped with handle ties for ease of carrying and to tie up after it's full, the Glad Handle Tie Kitchen Tidy Liners with Ambi Pur are the perfect household helper.

Available in 3 sizes - small, medium, large - these rubbish bags are perfect for any room in the house.
Kidspot have given 100 Mums Say Members the chance to review the Glad Kitchen Tidy Liners with Ambi Pur.
Please also note that if you have a child in nappies, these bags are great to use in the bin in your baby or tots room.
Each selected reviewer will receive:
4x Individual Large Size Glad Handle Tie Kitchen Tidy Liners with Ambi Pur
If you are selected to trial, the product will be sent to the address on your profile. Please check your address now to ensure that it is up to date. Click here for full instructions on how to check your address.


Kidspot Terms and Conditions: You will be required to post your review on Mums Say if you are selected. Your name and postal address will be given to the supplier for the purpose of delivery of the product only.