It isn't always easy getting the kids to take their vitamins, so the team at The Good Vitamin Co. have created great-tasting, convenient and fun soft chew vitamins the kids are going to love. These soft chews take the hassle out of supporting and promoting your little ones physical wellbeing by filling the nutritional gaps in your child's diet.
Coupled with cool characters and natural ingredients, these vitamins are sure to be a hit in your household.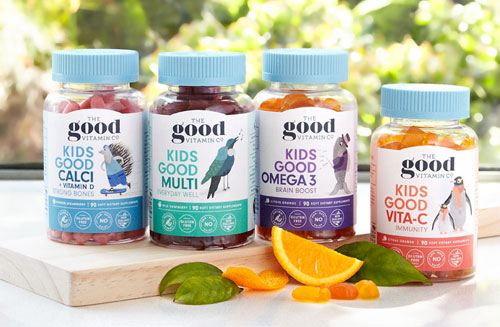 There are four products currently available for kids. Each bottle is brightly coloured and features a fun character.
Kids Good Multi Soft Chews (Wild Raspberry flavour) - Tess the Tui
Kids Good Calci + Vitamin D Soft Chews (Summer Strawberry flavour) - Hugo the Hedgehog

Kids Good Omega 3 Soft Chews (Citrus Orange flavour) - Professor Finley the King Salmon

Kids Good Vita-C Soft Chews - (Citrus Orange flavour) Pippa the Yellow Eyed Penguin
If you still need some more convincing, this New Zealand owned brand is bringing you great products that are gentle and enjoyable.
Gluten and gelatine free
Made with natural colours and flavours
Made from Pectin fruit base
No toxic binders or fillers
Improves your overall health from within
Formulated only using nature's finest ingredients
Each soft-chew is uniquely developed in New Zealand
Provides a great-tasting, on the go vitamin supplement
Don't want to miss out on the fun? The Good Vitamin Co. are also committed to keeping mums and dads healthy too so they've developed a great range of delicious adult vitamins. To see the range,
click here
.
*****************
If you miss out on the trial or would like to try some of their other products, you can buy straight from their website from November 25th. Be sure to use the code GOOD25 when checking out.
*****************
Be sure to like The Good Vitamin Co. Facebook page to stay up to date on their products and find top tips to keep your family healthy.
Children should always be supervised by an adult. Not to be given to children under 2 years of age without seeking medical advice.
Kidspot and The Good Vitamin Co. have given 50 Mums Say members with children aged 3+ the chance to trial their soft chews.

Each selected reviewer will receive:
1x bottle of Good Kids Vitamins containing 90 soft chews
If you are selected to trial, the product will be sent to the address on your profile. Please check your address now to ensure that it is up to date. Click here for full instructions on how to check your address.

Kidspot Terms and Conditions: You will be required to post your review on Mums Say if you are selected. Your name and postal address will be given to the supplier for the purpose of delivery of the product only.