**Read the reviews below**
RADIANCE KIDS SUPERFOOD SMOOTHIE
Helping to Grow Super Kids
• 29 Vital Ingredients

• No Added Sugar

• Nothing Artificial


We all know that good nutrition is crucial for growing healthy, happy kids but it's often a challenge to be sure they are getting everything they need in their diets. Radiance Kids Superfood Smoothie is here to help, offering a great tasting superfood blend designed especially for kids. Its superior
combination of 29 vital ingredients include hidden greens and probiotics
that will ensure even the most picky of eaters get their daily dose of essential nutrients.
Radiance Kids Superfood Smoothie contains nothing artificial –
no added sugar or fillers, and is non-GMO, gluten and dairy free.
You can be sure your kids will only get natural goodness as Mother Nature intended.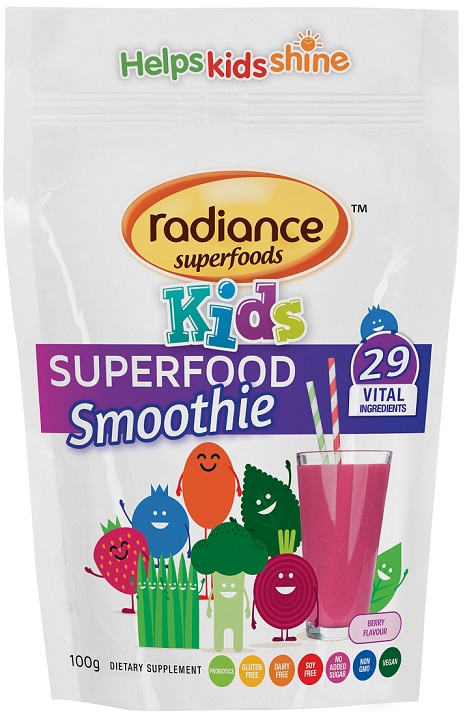 Proper nutrition fuels the body's and brains of growing kids and provides the essential energy they need to learn and grow. Radiance Kids Superfood Smoothie is a super nutritious way to boost your kids daily intake of essential nutrients and is packed with the energy kids need for an action packed day.
Easy, Nutritious, Delicious Drink or Snack Ideas
Whether it's part of your kids daily breakfast or lunch, or an easy, nourishing snack, Radiance Kids Superfood Smoothie offers a super delicious way to supercharge your kids diet.
We have given 50 Mums Say Members with children aged 4 - 12 years old the chance to review Radiance Kids Superfood Smoothie.

If you are selected to trial, the product will be sent to the address on your profile. Please check your address now to ensure that it is up to date. Click here for full instructions on how to check your address.
Kidspot Terms and Conditions: You will be required to post your review on Mums Say if you are selected. Your name and postal address will be given to the supplier for the purpose of delivery of the product only.