*Reviews coming soon - see below*

Kids don't need artificial sparkles or a fake bubble gum flavour to get them excited about brushing … so the team at Grin have left the unnecessary extras out! Grin 100% Natural Kids toothpaste is a gentle and effective gel specifically formulated to give the kindest treatment to your little one's baby teeth. Developed in cooperation with New Zealand dentists and chemists, it helps to clean your child's entire mouth.

Clean, white baby teeth + naturally soothed gums + a great taste that even the fussiest little brusher will love – now that's something to make kids and their parents grin!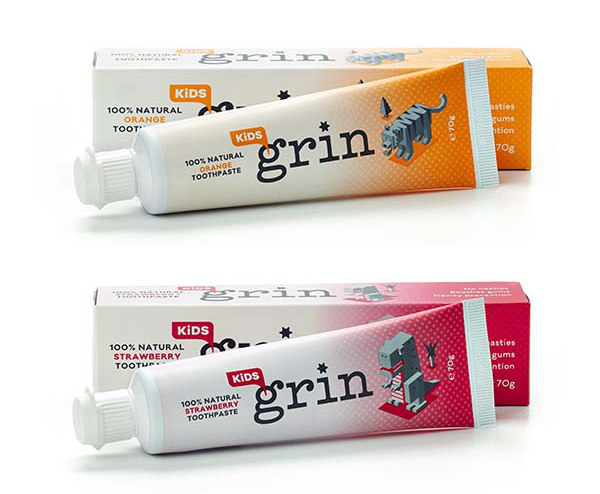 Made in New Zealand from 100% natural ingredients

Organic Calendula Oil, Organic Sea Salt and Organic Aloe Vera help to inhibit bacteria growth and soothe gums

Available in natural orange or natural strawberry flavour; "delicious", real fruit flavours that even the fussiest little brushers will love

Natural sugar-free xylitol adds a hint of natural sweetness and helps to prevent plaque build-up with regular brushing. All the yum, with none of the bad stuff!

NO Sodium Lauryl Sulfate (SLS), NO added sugar, NO preservatives, NO artificial colours, NO artificial flavours, NO fragrance and NO harsh abrasives

Fluoride, paraben and palm oil free

The only natural toothpaste available in New Zealand dental clinics
Not tested on animals
We gave 50 Mums Say Members with children aged 1 - 6 years old the chance to trial Grin 100% Natural Kids Toothpaste in either strawberry or orange flavour. Click over to our new Product Trials page to read the reviews.

Each selected reviewer will receive:
1x full size tube of Grin 100% Natural Kids Toothpaste in either strawberry or orange flavour.

If you are selected to trial, the product will be sent to the address on your profile. Please check your address now to ensure that it is up to date. Click here for full instructions on how to check your address.
Kidspot Terms and Conditions: You will be required to post your review on Mums Say if you are selected. Your name and postal address will be given to the supplier for the purpose of delivery of the product only.
Save
Save
Save
Save
Save